Vehicle Refinement Controlling Noise and Vibration in Road Vehicel
作者:Matthew Harrison
---
内容简介: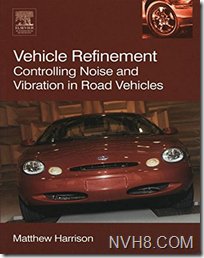 The First book devoted to the refinement of noise and vibration in automobiles, combines a detailed explanation of the fundamentals of acoustics and the science behind vehicle noise and vibration with practical tips and know-how for nosie and vibration control, based on rearl world experience with a variety of automotive companies including Ford, BMW and Nissan.
High standards of NVH (Noise, Vibration and Harshness) performance are expected by consumers of all modern cars. Refinement is one of the main engineering and design attributes to be addressed in the course of developing new vehicel models and vehicel components. Written for studens and engineering practitioners, this is the first book to address automotive NVH. It will help readers to understand and develop quieteer, more comfortable cars. With chapters on the fundamentals of acoustics and detailed coverage of practical engineering solutions for noise control issues, it is suitable for students of automotive engineering and engineering who haven't trained in acoustics, and will be an important reference for practicing engineers in the motor industry.
---
书评:
本书号称是第一本系统讲述汽车NVH集成的书籍,非常不错的NVH工具书。全文简单的分了3个大部分:整车NVH的设计和目标、噪声的评价和控制、振动的评价和控制。其中又包含了5个小的类别。
作者首先高屋建瓴的阐述了整车NVH评价和目标设定的重要性,然后详细的介绍了声学/振动的测量技术,车内、车外噪声和振动的评价和控制,让读者对于汽车NVH有个较为清晰的认识。唯一不是很喜欢的是部分章节添加了较多复杂的数学模型及公式推导,略显乏味。
着重推荐第一章和第三章。
---
基本信息:
图书基本描述

    出版时间: 2004-10-24(第一版)
    页数:360
    语种: English
    ASIN:B00108ANQM
    行业: Automotive;Acoustic;Vibration
    关键词: Noise, Vibration,NVH,Automotive Refinement.