Vehicle Noise and Vibration Refinement
作者:Xu Wang
---

内容简介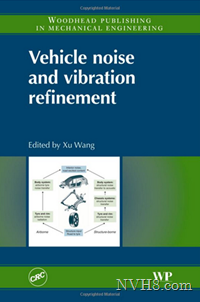 This book provides a review of noise and vibration refinement principles,control methods and advanced experimental and modelling techniques.There is also a review of palliative treatments necessary in vehicle design,development and system integration processes in order to meet noise and vibration targets and standards.
A comprehensive reference list is provided in order to direct further studies and to assist readers to develop in-depth knowledge of the sources and transmission mechanisms of noise and vibration in motor vehicles.
The book aims to support product design and development engineers and managers in automotive engineering companies as well as researchers and students. Chapters 1–4 and 6–8 are focused on the introduction of fundamental principles and methods. Chapters 9–13 present engineering case studies. Chapters 14–16 present advanced techniques. The authors include specialists working in noise and vibration departments of major automotive manufacturers, component suppliers and universities.
An additional aim of the book is to improve automotive education and to bridge the gap between the automotive industry and universities.
The authors believe that the key to an efficient automotive industry is close liaison between universities and industry, while maintaining a good balance between academic and commercial needs.
---
内容目录
Part I : Introduction
Part II : Measurement and modelling
Part III : Noise and vibration refinement in vehicle systems
---
书评:
经典振动噪声英文图书。正如作者所言,这个书的目的之一是将院校研究与工程实际应用紧密结合在一起。尽管作者是一位学院派作者,但是整本书的内容都是基于实际项目开发的。将理论知识与实际应用结合在一起,尤其是条理清晰的阐述了如何将NVH控制技术有效的整合在整车实际开发中,推荐!
---
基本信息:
Product Details

Hardcover: 434 pages
Published Date:  April 13, 2010 
Language: English
ISBN-10: 1439831335
ISBN-13: 978-1439831335
Sector: Automotive
Topic: Noise, Vibration, Automotive development